Process optimization onto synthetic surfaces
find important professional competence here
TERMfix B2B solutions specializes in the optimization of three process areas – injection molding – painting – refining. Main focus in the process chain is the application onto synthetic surfaces.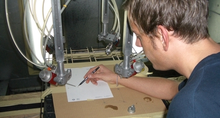 Optimum injection molding parts promote a perfect painting result.
Subsequently, the maximum possible output quantity will be refined to the precast part.
TERMfix B2B solutions was founded in 2010 after operating in the surface coating industry resp. automotive supplying industry for 20 years.
Many years of experience in the application and automation technology for the painting process promote a very high yield of good parts.